WikiLeaks' first email dump in their "Hillary Leaks" series seems to be proving many things that we have long suspected.
First, they proved that the Democratic National Committee's unfair treatment of Bernie Sanders was no accident. It was the result of a concerted effort to stop the socialist senator from clinching the nomination. Now, evidence that the DNC is giving direct orders to the mainstream press has come to light, as well.
Of course, it doesn't take a genius to guess which network was doing the bidding of the Democrat party — it was MSNBC.
In an exchange between Debbie Wasserman Schultz and MSNBC's Chuck Todd, the Democrat National Committee Chair seemed to order Todd to put an end to stories that claimed that her party was — get this — purposefully mistreating Sanders.
How ironic.
The drama from WikiLeaks' DNC email dump continues. This time, MSNBC is being exposed for their contact with the Democrat party.
Yesterday, Wikileaks released a trove of 20,000 emails they say were sent and received by the Democratic National Committee between January 2015 to May 2016.

NBC News' Chuck Todd was named in one such email purportedly from the head of the DNC demanding to speak with him:
"NBC reporter @chucktodd takes direct orders from DNC without disclosing it to public #DNCLeaks pic.twitter.com/7sbeQSPwUA" — Roosh (@rooshv) July 22, 2016
Todd responded this way:
"@rooshv lots of misleading stuff on Twitter but this takes the cake. Total distortion. I receive coverage complaints daily from all over" — Chuck Todd (@chucktodd) July 22, 2016
Chuck Todd laughed off the accusation despite the evidence, claiming that he receives orders from partisans on a regular basis. It seems unlikely, of course, that any of those orders are coming from the likes of the GOP.
Source: Twitchy
Photo: Gage Skidmore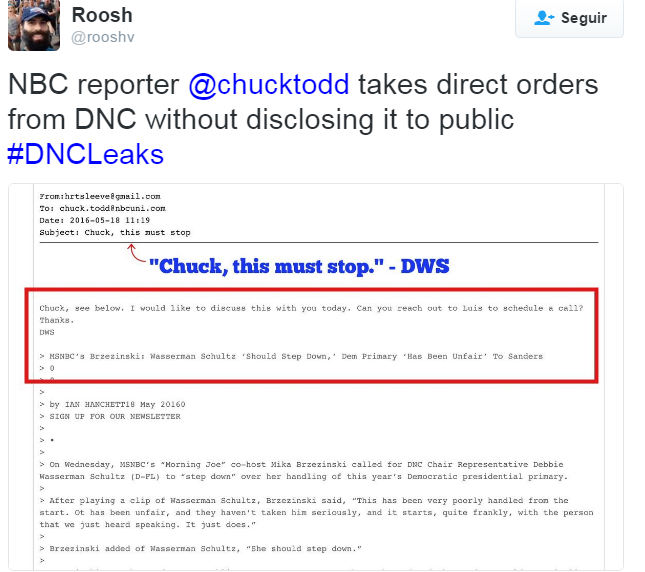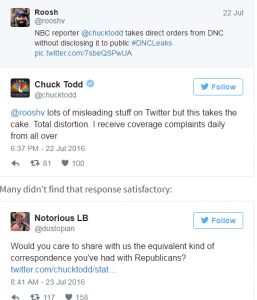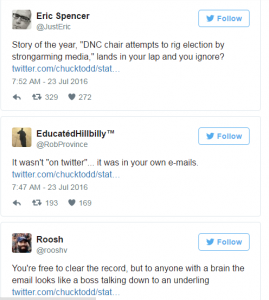 If you haven't checked out and liked our Facebook page, please go here and do so.
Leave a comment...